Best cheap digital cameras
Digital cameras are changing quickly so getting the best camera for your money is very important.
I use this compact digital camera: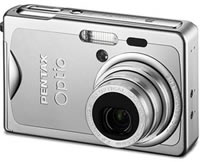 Pentax Optio S7 Digital Camera [7Mp, 3x Optical]
Available through Amazon
It is easily possible to get an extremely good compact digital camera for under £200, and digital SLR camera for upwards of £400.
Here's what to look for in a digital camera:
Megapixels
Do not get obsessed by how many mega pixels a digital camera has as many camera buyers do. It really depends on what you plan to do with your digital photos. If you are only going to keep your photos in an online gallery then a cheap 2Mp or 3Mp digital camera is adequate. However, if you plan to print them at 7"x5" size or larger you should look for digital cameras of 4Mp upwards. If you are going to crop into your photos then a 5Mp+ digital camera is best.
Start-up speed
Check online or magazine reviews of digital cameras, or get down your local camera shop to check how long each camera takes to start up. You don't want to miss those great spontaneous shots do you!
Picture taking delay / speed
For me, this is one of the most important consideration when buying a digital camera. I trawled through loads of reviews looking for the fastest digital camera as I didn't want miss the perfect wildlife or candid portrait shot.
Memory cards
My advice: get the largest memory card you can afford. I have a 1GB card in my compact digital camera and a 2MB in my SLR. On a recent trip to Morocco I was still taking pictures long after my jealous girlfriend's 256MB memory card became full.
Camera size
Digital cameras are getting smaller and smaller which is great for travelling in places where you do not want people to know you have a camera, but do watch whether the functionality has been reduced.
Scenes/Modes/Pre-set settings
Most digital cameras now include pre set modes for shooting which are great for beginners and professionals alike. Look for modes such as Night, Indoor, Sunset, Sport and Portrait for those great shots of people with blurred backgrounds!
Where to buy your digital camera
I became obsessed with finding the best cheapest digital camera, and this is where I found it. Plus cheap digital camera accessories and memory cards.
Scans prices from all the major digital camera specialists. Follow the links to read about each digital camera.
What next?
Photo books
Since I've had my digital camera I've stopped printing my images - which is a shame.
However, I recently found MyPhotoBook. Download their wicked application and layout a professional book of your own photos. I've just done my Cuba trip and it looks amazing. Try it - it's free to download and try.