You do not have to fly in and out from the same city when you book your round the world flights. In fact it can even work out cheaper if you do not.
A list of classic overland routes are detailed below as well as some unusual or demanding journeys.
What is a Surface Sector?
A surface sector is when you travel independently between two flight points en-route to your final destination. For example: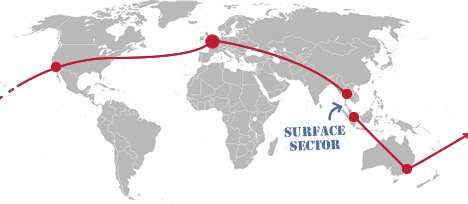 London - Bangkok surface to Singapore - Sydney - Los Angeles - London
Travelling overland comes extremely recommended if you have the time. You get to see far more of the country and really get a sense of travelling.
What is an Open Jaw?
An open jaw is a surface sector at your final point of turnaround - or furthest point from where you started. For example: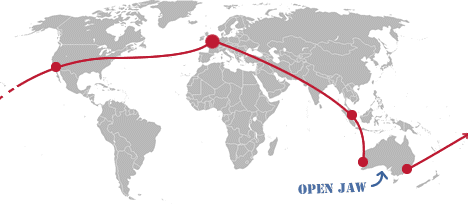 London - Singapore - Perth surface to Sydney - Los Angeles - London
Check prices of open jaw tickets online with Expedia or Lastminute.com
These two aspects of a round the world flight can be combined in most tickets to create some very interesting routings and also do not add to the cost of the ticket as they count as one stop - not two.
View some surface sector tours. You can even book your place online.
Classic overland routes
Bangkok surface to Singapore
Sydney surface to Cairns
Auckland surface to Christchurch
New York surface to Los Angeles
Durban surface to Cape Town
More adventurous surface sectors
Moscow surface to Beijing (Trans-Siberian)
Rio de Janeiro surface to Lima
Saigon surface to Hanoi, Vietnam
Nairobi surface to Jo'burg (Safari trip)
Islamabad surface to Beijing (Silk Road)
Cairo surface to Istanbul
New York surface to Santiago
Bangkok surface to Hanoi