Find out what to see and do when travelling or backpacking around Australia.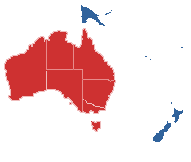 Australia highlights
Destination
Make a reservation

Sydney

Opera House, Harbour bridge - (possible to organise climbs), The Rocks for shops, bars and restaurants. Sydney is near to to the Blue Mountains for walking and sightseeing, and the Hunter Valley in nearby for wine tasting.
Flights Hotels Hostels Tours Car hire

The Outback / Red centre

Ayers Rock (Uluru), Kings Canyon and The Olgas from Alice Springs
Flights Hotels Hostels Tours

Kakadu National Park

Kakadu National Park is accessed from Darwin and offers great overnight adventure trips.
Flights Hotels Hostels Tours Car hire

Great Ocean Road

The Great Ocean Road from Melbourne is one of the best drives in Australia. The Twelve Apostles are an amazing sight.
Flights Hotels Hostels Tours Car hire

Snorkelling and diving

Excellent snorkeling and diving trips are available at the Great Barrier Reef on the East Coast of Australia and Ningaloo Reef off the West Coast near Perth.
Flights Hotels Hostels Tours

Fraser Island

Head on an overnight 4x4 camping adventure trip to Fraser Island for great sandy beaches, dingos and dense forest.
Flights Hotels Hostels Tours Car hire

The Whitsunday's

The Whitsunday Islands offer amazing sailing trips, turquoise waters, white sandy beaches and excellent snorkelling.
Flights Hotels Hostels Tours Car hire

Byron Bay

If you are backpacking around Australia you will almost definitely end up in chilled Byron Bay for some time. Take the excellent surfing lessons here.
Flights Hotels Hostels Tours Car hire

Australian cities

Australia has some exciting cosmopolitan cities to explore from Perth on the West Coast, through Melbourne, Adelaide and Sydney Brisbane, Cairns and Darwin.
Flights Hotels Hostels Tours Car hire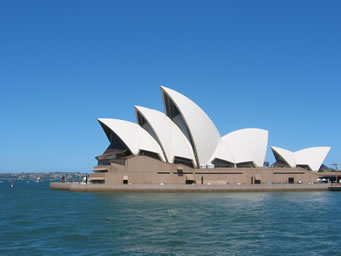 Sydney Opera House, Australia
Main travellers routes
Sydney to Cairns
Sydney to Adelaide along the Great Ocean Road
Sydney to Darwin via Cairns, Alice Springs
Some people travel from Perth up the West coast to Darwin
Bus Passes such as the Oz Experience and McCafferty's are the most popular ways of travelling overland (see Getting Around section for more details)
Renting a car in Australia for self-drives is a common option
Buying a car is also a possibility
Discounted air passes such as the Boomerang and G'Day Passes are cheapest but must be bought in advance.
Capital and main cities
Canberra (Administrative)
Sydney - Main travellers destination
Main Cities/towns - Sydney, Melbourne, Perth, Brisbane, Adelaide, Cairns, Darwin.
Languages
Currency
Australia Visas (always check with your embassy)
Tourist visa required. (ETA)
Working visa must be applied for if intending to work in Australia.
Foreign Office Advice
Flights and accommodation
Tours and day trips in Australia