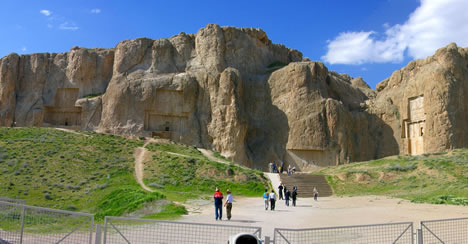 Travelling in Iran
Bebakhshiid, Faarsi balad niistam... among other phrases. It's really quite amazing what you pick up when travelling (as I'm sure most of you can confirm!); 'I don't speak Farsi' and 'I'm from England' and 'I'm not a spy' were all extremely useful in my latest holiday hot-spot - Iran.
Yes, yes, yes the Ayatollah, hatred of the West, religious intolerance, blatant sexism, political prisoners and no doubt some small war somewhere. Not exactly an attractive image for the pleasure-seeker, and yet the image that most people have on hearing the country's name. However, while life for most Iranians is indeed difficult and State-controlled, travellers are not affected, and will experience only warmth, friendliness and a surprising frankness from the people they are lucky enough to meet.
The country itself is vast, over 3 times the size of France, and offers breathtaking scenery, from desert and oases to mountains and lakes; incredibly beautiful mosques and citadels; bustling bazaars and ghostly ruins; a fascinating, rich culture; and a smiling, welcoming people. Why on Earth wouldn't someone want to visit?
Seventeen full days allowed me to visit all of the 'main' cities and sites, and pop to the Caspian Sea, without feeling rushed or disappointed. I flew firstly to Kerman in the South-East, from where I went to Bam, famous for its deserted adobe city and fortress (c.224-637 AD) which was abandoned after an Afghan invasion in 1722. Visiting the old city both in the late afternoon and the early morning allows you to experience two very different sides of the complex. Late afternoon, as the light fades, accentuates the mystery and the desolation of the place, while the bright morning sun brings it almost to life, feeding the imagination and filling the mind with images of the clamour and activity and colours that must have been. Quite, quite special.
The citadel's gatehouse contains a traditional teahouse, where, of course, I had to have a puff or two on the water-pipe, a pot of fragrant tea and a couple of date cookies! It was under the gatehouse that I met quite an amazing lady. A local probably in her mid-fifties, we spoke openly and at some length about the current 'situation' and regime in Iran. She had studied Iranian literature at University in Shiraz, where all discussions on the merits and works of such greats as Hafez and Sa'dii were conducted in English. In her opinion there are three types of Iranian - those who just breathe and live; those who breathe, live and work; and those who breathe, live, work and think. Those who think, she said, are too few, but 'fortunately, or maybe unfortunately, I don't know, they are at least the young.'. For her, freedom had to start in the mind; her 'hejab' (Islamic dress) was not important for now. What was important was that the Emams and Ayatollahs loosened their grip. Her hope lay in her young sons
From Bam, I took a 10 hour bus trip to Shiraz. The terrain on the way was, well, dull; and at one stage dark, ominous rain clouds lay so low and heavy between the dunes and the mountains that they appeared to be crushing all life below them. The university town of Shiraz was where I first saw women not wearing the full 'chador' (literally 'tent' - the long, all enveloping black shawls) and even daring to wear make-up and, shock, hold their husband's hand ! Tree-lined boulevards, calming gardens and a striking city-centre fortress describe what is also the gateway to the ruins of Persepolis, city of Darius the Great (c.512 BC). Over the following 150 years, a number of subsequent kings completed the city, only for the Greeks to destroy it in 331 BC. What remains is an impressive, humbling complex of carved stone gateways, palaces, royal courts and 20m high columns, all overlooked by the tomb of Artexerxes which is carved into the rock face of one of the surrounding mountains.
Flying to Esfahan, I tucked into another delicious Iran Air chicken and gherkin roll, and gulped down the usual carton of 100% Natural Apple Juice with the irresistible slogan ' Don't just stare at me! Drink me!'..
'Esfahaan nesf-e jahaan' (Esfahan is half the world) or so they say; but despite its many attractions, I felt that perhaps the expression was a tad on the exaggerated side. However, if there were just one 'must see' in the whole country, I would suggest it was the overwhelmingly beautiful and spiritual Masjed-e Emaam (Emam mosque), completed in 1638. On entering the 30m high portal, the senses are totally smacked - the sheer scale of the place dwarfs everything around it. The deep, shimmering blues and intricacies of the tile work, the 42m tall minarets, and the mammoth dome all serve to create one of the most powerfully majestic buildings I have ever seen.
Esfahan is also famous for its bridges; although the area not having had any significant rainfall for two years rendered their existence somewhat superfluous - there was no river and people were just walking across the dry, cracked earth of the river-bed! However, their design and construction are, I guess, pretty impressive; many being made of stone and one having an incredible 33 arches, dating back to 1602. More amazing, and certainly full of character, are the small teahouses found underneath the bridges, where time seems to stand still as you contemplate life, allowing the calming effect of the water-pipe to soothe away the day's frustrations.
Having missed the 8 o'clock bus to Yazd (my own stupidity knows no bounds, it would appear!), I was more than a little dischuffed to have to wait for 6 hours at the bus terminal for the next one. But, hey, the sun was shining, people were smiling and I had a good book ! After just 5 hours, we arrived in Yazd, one of the oldest towns in the world, according to UNESCO. Its 'old quarter' is a fascinating labyrinth of narrow alleys and mud-brick buildings, and wandering around completely lost was just fantastic. Yazd is also an important town for the followers of Zoroastrianism, a pre-Islamic religion that was apparently the first to advocate the belief in an unseen, all-powerful single god.
Over an hour away from the city, much of the journey on a dirt track through breath-taking mountain scenery, is the shrine of Chak Chak (the sound that Persians attribute to dripping water), set in a cliff-face. This shrine is as holy to the world's approximate 130,000 Zoroastrians as Mecca is to Muslims, and they celebrate with an annual 4-day festival at the site itself. The shrine is composed of 3 eternal flames in a metal stand affixed to a wall in a cave, where the water drips constantly from an unseen source; guarding the shrine are two heavy bronze doors and a rather perverse (or just loony?) looking 'keeper of the keys'. Despite its small size, and an incongruous glass chandelier, the whole place breathes spirituality, even for an atheist like me.
Lastly, I flew to Sari, in the Caspian province of Mazandaran north of Tehran. Suddenly, the ochres of southern Iran burst into lush greens; desert became forest and dried-up river-beds became the Caspian Sea, the largest lake on Earth. The architecture of Sari was very different to the other towns and cities I had visited, many of the roofs for example being sloped and tiled; and tombs of princes became rectangular, cone-topped stone towers rather than tiled, domed masterpieces. It was also the busiest place I had visited, with the main street being as crowded with shoppers, and as irritating, as Oxford Street on a Saturday! On my last day, I hired a driver to take me to the shores of the Caspian Sea, passing on the way mountain slopes covered in the most amazing greens, and fields on the flood plain edged with cypress trees and pampas grasses. We arrived at a beach just as about 1000 (well, perhaps about 20!) local fishermen were dragging in their catch. With the aid of a couple of tractors, they slowly pulled the net towards the shore, finally spilling the fish onto the sand. Sadly, such a labour-intensive, time-consuming activity resulted in a paltry 4 small crates of fish. Fascinating to watch, though.
Of the people I met and talked with, only one failed to mention politics and to complain about the lack of freedoms in Iran, but even he did rush to explain that the economic situation for most is dire, with more and more unemployment. Are those who are able to express their feelings clearly and eloquently in English representative of the population as a whole? Do they just say what they perhaps think we want to hear? I don't know; but it's hard to listen to. And what do you say to an Iranian who is asking you why his application for a Canadian visa has been rejected, when he is evidently desperate to get out? There are, of course, many aspects to the regime in Iran that are intolerable, and that we as lucky westerners find abhorrent; but if you don't like it, you make your stand by not going in the first place. It is pointless, and frankly insulting, to visit such a country and then start banging on about how unacceptable things are, and that as a westerner you're not going to wear hejab, you're not going to role your sleeves down on entering a mosque, you're going to drink alcohol and you're going to start slagging off the Ayatollah.
With the rise in the number of internet outlets, and more and more people using mobile phones (there were an amazing number of shops selling them), the closure of the free press will hopefully become just another act of an increasingly impotent government. Unable to control the flow of information, how can the State continue to control the people? And as Iran opens up to the rest of the world for trade and commerce, will the power of the greenback make wealth more of an aspiration than political freedom, as seems to be the case in China? Watch this space, I guess.
I'm not suggesting that it will appeal to everyone, but if you are at all interested in the Middle East, then Iran is a country that you should try and visit. You will be warmly welcomed.
More travel stories
Highly recommended tour companies