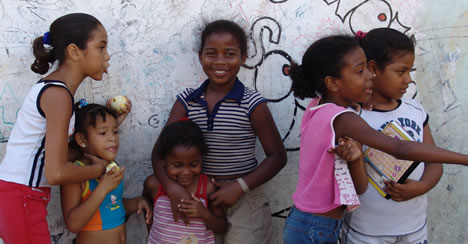 Crossing from Panama to Colombia via the Darien Gap
As my name was called and I hurried across the runway of Panama Cty airport with the Cuna Indians, I did wonder about the paucity of this plan. What did I know about this area - the Darien Gap - which I was about to attempt to cross ? What had I heard of Colombia, this country I was about to enter ?
Only one person I had actually met in the flesh had crossed this wilderness of understanding and they had returned a little unhinged by the whole ordeal to say the least. Despite attempts to fashion my own image of these places, the twisted media portrayal of the hostile, unknown nature of this untouched jungle separating Panama from Colombia could not avoid depositing scarred visions, the Dark Night of the jungle, banditry and drug-running. My knowledge itself was impenetrable and clogged by shadow.
I had followed the Pan-American Highway all the way from Los Angeles, through Mexico and the green, mountainous central American countries before arriving in Panama City to take a 40 US dollar flight to the border and attempt this leap of faith. I had seen this rich vein pumping sugary aid and information without hindrance from the USA, littering the places with neon hoardings and promises of glamour and wealth and in Panama City it seemed to reach its zenith. A Los Angeles of the mind issuing forth from the green wilderness.
As the isthmus of central America narrows into Panama all this interference bottle-necks into a huge build-up of development and manipulation. And then stops. As if Nature had finally grown tired of all the shouting and stood up for itself. A real-life gap of understanding and awareness. Tall tales and insinuations are all I have to go on now. The Pan-American highway will not commence again until some way south into Colombia.
Fortunately I am merely occupied by the size of the plane that I have just boarded with four stoic-looking Cunas, It barely seats six and I may aswell be crouching on the pilot's lap it is that small. It is 5.30am and I have not managed to catch any sleep in lieu of a rather hefty run session in my hostel with assorted Europeans. My mind is actively unhinging itself from reality as I make myself comfortable in the darkness and the people around me finger beads and mumble prayers. Not for the first time on this trip I wonder what the hell I am doing. Insect-like the tiny plane chunters to a start, skitters off down the runway and skips into the air. We are up and jolting forward into the shards of sunrise that split the clouds above the skyscrapers of a fairytale-like Panama City.
The scrubby suburbs of the metropolis soon disappear and the revelation that is the Darien Gap opens up below us like a vast green carpet dotted and cut up by lagoons and mountains and lazy, looping rivers. We have a superb view of it all as the sun rises in front of us. Ribbons of mist lie low over the vast jungle.
My happy mind had not considered the fact of landing but an hour or so into this spectacle, as we now fly parallel with the Caribbean side of the coast, the pilot made a short, incomprehensible announcement and jolted the tiny plane landwards at a startlingly acute angle. He was making as if to land somewhere. Where, I had no idea, for the entire coastline was seemingly thick, impenetrable greenery but this moustachioed wonder persisted and dragged the plane lower and lower, almost skimming the turquoise waves. Just as I was about to question someone as to whether this was actually a boat-plane, a tiny opening appeared amongst the fronds and somewhat miraculously the man landed this vehicle on a thin strip of uneven grass. It bumped to a halt next to a palm hut, some boxes changed hands, the faces behind me broke into smiles of greeting, and we took off again.
This occurred twice more before the vast conurbation that is Puerto Obaldia hove into view. This is the last village before the border, and Colombia, and obviously so, as soldiers surrounded us as we landed and Huey helicopters littered the village green where we had just set down. I felt as if I had been awake for a hundred hours but it was only 8.30am. I was barely conscious and it got considerably worse as I, the only tourist for years was led around this scrubby dump of a transit from police hut to immigration office and back to police hut. And so on. For three hours. It was pissing cold rain but somehow I was sweating like I had never sweated before and my body was starting to crumble. In the last visit to the police hut I was made to sit in front of four arrogant officers who stared at me without speaking for a full hour whilst a pack of pre-pubescent soldiers emptied my rucksack and dissected everything into the constituent parts. I sat and held back the tears which were pushing up from a well of deep tiredness rather than anywhere else.
They finally agreed that I had paid the price of wanting to leave their country and set me free. Somebody ran off with my passport a few hours ago so I track that down, ask a number of cursory questions and then commence another waiting game on the dishevelled shore. Local boat is the only feasible option available in order to advance further east down the coast towards the recommencement of a proper highway into Colombia and so it is that another four hour waiting game approaches.
I have never been this tired in my entire life. The 'café' where a motley group of boat-travellers have coalesced to wait can only serve thick soap-tasting orange juice and the carcasses of other foolhardy wonderers who have attempted this odyssey. I enter a bizarre stage of paranoid hallucinations and then quite suddenly, whilst lying prone on a low wall hanging onto my belongings, my battered body gives up and crashes massively into sleep. Pins me to the floor. Shut down. I dream, somewhat strangely, of Mars Bars and English soap operas.
Being shaken rudely awake during such pleasant reminiscences set me up in a fool mood, but this soon disappeared as our launch arrived, water and food was purchased and the fresh sea wind enlivened my mind. We make for Capurgana alongside coastlines of effortless beauty. Thick greenery dips to a golden shore and I do not think I have ever seen such wondrous beaches.
A couple of hours pass before we arrive into Capurgana, next port of call and resting place for a night. The pleasures continue in this most mellow of beachside villages. The Caribbean feel is reflected in the yellow and green painted woodern huts and the ridiculously relaxed attitudes of the locals. I have trouble paying for things, such is their friendliness.
After a good night's sleep and invigorating food (fresh fruit, yams, rice, sweet potato) I reboard another small launch and complete my journey to Turbo, the rough port town from where the roads commence once more. It is not until Medellin three days later that I came across the first tourist.
All the warnings I received and all the images I had seen of the violent nature of this area had remained thus; images not facts, opinions not actualities. I had experienced only friendliness, beauty and calm. Apart from the immigration officials, of course, who were simply behaving as they thought they should.
Biography

You can contact Daniel for further information or for writing opportunities at: Danchalmers@hotmail.com
Research and book a trip to Panama
| | | |
| --- | --- | --- |
| | Great for cheap flights as well as special flight and hotel combinations. | Check prices |
| | British Airways often have cheap flight offers and typically have direct flights. | Check prices |
More travel stories
Highly recommended tour companies