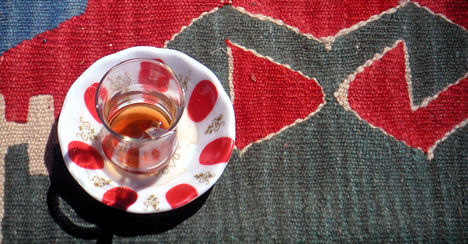 Istanbul: Apple tea calms the racing nerves...
'ALL YOU GOOD, GOOD PEOPLE OUT THERE, IT IS TIME TO RISE UP AND GO TO PRAYER !!!!!'
but in Turkish, at full blast across the entire city, at 5.30am, in a wailing, falling, rising, forlorn chant. 'Stop that yelling', would have been the first reaction, but then the harmony lifted and the voice became powerful, and full of meaning, and we lay there, and took it in and enjoyed it, and then it finished, silence reigned and sleep returned.
What a fine moment ! What an utterly delicious feeling ! To wake up, and have the knowledge that anything and everything lies in front of you. I can sense the sun pouring through the early morning clouds, the place is peaceful and one of the greatest churches casts its shadows over our doorstep. I lie in bed and imagine the possibilities of a city that lies all around me; awaiting, unknown, ready, open. I have no pre-formed opinion of this city, or this country, I know nothing of its shape, its colour, its shade, the coded languages and meanings of its peoples. But this is the only way.
The sun is burning away the morning cloud and the air is bright with meaning as we head off, happy and laughing into the sparkling jewelled interior of the covered market, leather, carpets, antique brass and intricate silver. Everything flashing and gleaming, shoe-shiners and carpet-sellers verbally pushing and pulling for the catch and the detailed blue and white mosaic above offering a glimpse of fantastic unknown context. We wander in this closed interesting space, revelling in the difference and the new sounds and shades. Apple tea calms the racing nerves. And this goes on.
We feel the need after a while to leave the potentially-claustrophobic environment and towards the Bosphorus and the Galati bridge. This being Saturday I presume it is open-market because as we are in the process of freeing ourselves from the tight closed market, we are thrust unknowingly into the controlled lunacy of the alleyways and climbing streets that heave and jostle with everything. There is no fear, everything is calm and together, but every inch and every space and every moment is filled with person or material or cart or animal or food or liquid. Down every street, in every doorway, inside every alley there is someone shouting something selling something to someone shouting selling something. The noise is unbelievable, it is like a clambering of the heathen in the descent into hell.
But listen, for there is no Fear or physical hassle; yes, there are hands on arms, eyes looking, fingers grasping, pointing. But nothing of a threat. Is this this the nature of the city, or the fact that I have witnessed this before ( in Jaipur, Sousse, Bangkok, Lima)? I think it is the former.
There is a point in this passage of events where we stand at a packed crossroads, on a slightly sloping hill, and movement is impossible. We stand shoulder to shoulder with this People and take it all in, amazed, refreshed, rejuvenated. Smiles on our faces as we look down the hill and view a great sea of humanity, living their lives. Without pretence or fallacy. Peanuts and corn on the cob dripping in garlic and butter and spice. We continue our walk down the hill, toward the great river and come out on its shores, looking across, towers and narrow, climbing streets. And on this side, layered steps that mill with a million people and their smouldering fires, packs of birds swoop across the scene, and I realise that I am, again, in Asia, where the rules are different and nothing is understood; they live apart.
We as Westerners do not understand the meaning; we can appreciate the presence of the mosque at the top of these steps that looms over their lives, always visible, but no more than that. The rest of it is beyond our understanding. And there it should stay. This is why it is so valuable; because I cannot understand it, it remains beyond my realm of entrenched values, and reminds me that there is always an unknown world out there, there is a reason to carry on searching. There is consistently more to attempt to appreciate and to try to feel. The rest of the day is taken up like this: wandering, the all-encompassing views from the Galata Tower, the winding alleys, the vibrant game of football with the Kurdish street-kids with filth faces and bright eyes and minds. We tumble down to the river's edge, sun going down over a new-found city. Closing the first day.
Biography

You can contact Daniel for further information or for writing opportunities at: Danchalmers@hotmail.com
More travel stories
Highly recommended tour companies