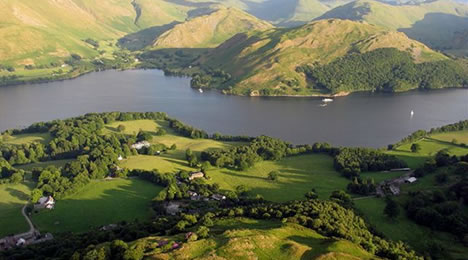 Ullswater In The English Lake District
Ullswater is situated in the Northern area of the English Lake District and just 6 miles from junction 40 of the M6 motorway. Perfectly located for access but without having swarms of tourists so keeping the area serene and peaceful.
The name 'Ullswater' is believed to have come from an early Viking settler but due to a stone circle called The Cockpit at Barton Fell, some say it could have been earlier. The valley has many farms which is now the main economy of the area along with tourism. Some of the farms which are still working today, date back to as early as the sixteenth century.
Ullswater is the second largest lake in the Lake District at a length of 8 miles. The lake is surrounded by some of the most beautiful scenery in the area and is a very popular place to stay for walkers wanting to tackle Helvellyn, Highstreet and Fairfield. The Coast to Coast walk goes through Patterdale with the Patterdale YHA situated on the route. For less adventurous walkers, there are many lower level, less strenuous walks such as the lovely Hallin Fell walk. It is approximately 3 miles long and of the same distance, the Aira Force Walk. Aira Force is the most spectacular waterfall in the Lake District and the beautiful walk through a leafy glen is wonderful.
If staying in the youth hostel is not for you, the area is blessed with a plethora of Lake District hotels ranging from small bed and breakfasts to luxury 80 bedroom hotels with bars and restaurants. At the Pooley Bridge end of the Lake which is the North of the Lake, there is a choice of camp sites so the area really does cater for everyone.
As a break from the walking, a trip down the Lake from Glenridding to Pooley Bridge or vice verse is perfect. The vessel is a steamer boat and the Ullswater Steamers have been operating on the lake for nearly 150 years. Staying at one of the Lake District Hotels at Glenridding means you are perfectly situated for the Steamer pier.
Unlike Lake Windermere, Ullswater is a very quiet lake perfect for wind surfing, small sail boats and fishing. Access from the M6 motorway is excellent with Pooley Bridge being just 6 miles from junction 40 and Glenridding is an 8 mile drive south along a very picturesque lake side road.
More travel stories
Highly recommended tour companies