The Great Escapade ticket from Air New Zealand, Singapore Airlines and Virgin Atlantic is one of the most popular and cheapest ways to fly around the world, offering unlimited stops within 29,000.
You can not book the Great Escapade online, but Air New Zealand has its own round the world ticket which can work out cheaper if you can fit in with its flight network.
What are some of the main rules of the Great Escapade ticket?
Which airlines can I fly with?
Air New Zealand, Singapore Airlines and Virgin Atlantic
NOTE: If you book your flights online with Air NZ you may fly on code-share flights. Select 'Multistop' on their booking engine.
How long can I take?
The Great Escapade ticket is valid for 12 months from the date of the first flight.
Maximum mileage
There is a maximum mileage allowance of 29,000 miles on the Great Escapade fare, however, you can purchase extra mileage if necessary.
How many stops can I have?
Unlimited stops are possible on the Escapade air fare but you can only stop at each city once (additional transits are permitted).
You must fly around the world to either Australia or New Zealand and cross the Atlantic and Pacific once.
Surface sectors are permitted. So flying into Auckland and out from Christchurch counts as one stop. Take a look at some of the exciting tours you can include to make your Great Escapade round the world flights more exciting.
Where can I stop?
Singapore Airlines has a good network through Asia but remember you may have to keep returning to their hub in Singapore if you don't want to travel overland.
Air New Zealand stops in lots of Pacific Islands like the Cook Islands (Raratonga), Fiji, Hawaii and Tahiti, plus lots of stop in New Zealand such as Auckland, Christchurch, Queenstown and Wellington.
Virgin Atlantic flies to the USA as well as Asia, but they also fly to South Africa where you could join a Singapore Airlines flight up to Asia before continuing on to Oz. Just check the mileage.
What are popular Great Escapade routes?
There are lots of combinations to choose from, but some examples of some Great Escapade round the world flights could be:
London - Delhi - Singapore - Ho Chi Minh City surface to Bangkok - Sydney - Christchurch surface to Auckland - Fiji - Cook Islands - Tahiti - Los Angeles surface to Las Vegas - London.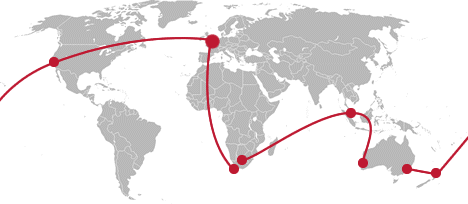 London - Cape Town surface to Jo'burg - Singapore - Perth surface to Sydney - Auckland - Los Angeles - London.
Always check the conditions of your flight ticket before booking to ensure you are aware of any charges or restrictions which may be applicable.