The World Discovery Plus ticket offers an extra stop (making it 7 stops) from the base World Discovery fare from British Airways and Qantas.

British Airways promises that if you find exactly the same BA flight cheaper on another UK website they'll refund the difference! Check prices
What are some of the main rules of the World Discovery Plus ticket?
Which airlines can I fly with?
British Airways, Qantas, Cathay Pacific (on selected routes).
NOTE: When you book your flights online you will probably fly on code-share flights.
How long can I take?
The World Discovery Plus ticket is valid for 12 months from the date of the first flight.
Maximum mileage
There is a maximum mileage allowance of 29,000 miles on the World Discovery Plus fare, however, you can purchase extra mileage if necessary.
How many stops can I have?
7 stops (including Australia / New Zealand), with a maximum of 3 stops in Australia and 3 stops in New Zealand.
You must go to either Australia or New Zealand, and can choose to stops in either direction in either Asia, Africa, North America or South America.
For example, you could go out via America and back via Asia, or out via South America and back via North America (if within mileage), or just out and back via Asia...
Surface sectors count as one stop. So if you flew into Bangkok and out from Singapore, that counts as one stop. Take a look at some exciting tours you can include to make your World Discovery Plus round the world flights more exciting.
The World Discovery Plus RTW ticket allows this extra stop but does not increase the mileage allowance. If you don't need 7 stops consider the World Discovery ticket.
Where can I stop?
Stops are the same as the World Discovery air fare, and can include:
Asia: Bangkok, Beijing, Denpasar (Bali), Jakarta, Singapore, Hong Kong, Mumbai, Shanghai, Tokyo.
Africa: Johannesburg
Americas:: Honolulu, Los Angeles, New York, San Francisco, Vancouver.
Australia, New Zealand and Pacific: Adelaide, Brisbane, Cairns, Darwin, Melbourne, Perth or Sydney. Fiji. Auckland, Christchurch, Queenstown, Wellington.
What are popular World Discovery Plus routes?
There are so many different combinations to choose from, but some examples of World Discovery flight could be: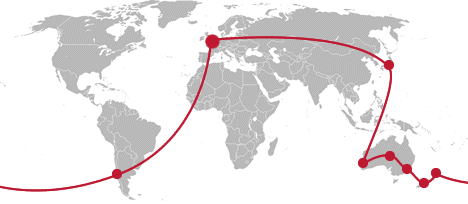 London - Tokyo - Perth - Ayers Rock - Sydney - Christchurch - Auckland - Santiago de Chile - London. Prices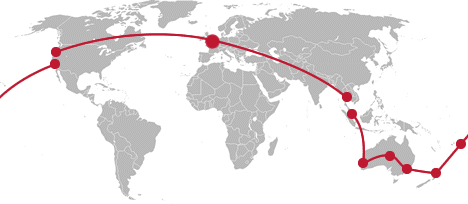 London - Bangkok surface to Singapore - Perth - Ayers Rock - Sydney - Auckland - Fiji - Los Angeles surface to San Francisco - London. Prices
Always check the conditions of your flight ticket before booking to ensure you are aware of any charges or restrictions which may be applicable.
Next: Round the world tickets