The OneWorld Global Explorer ticket is a round the world ticket based on mileage, regions and stops and offers more choice of destinations than the cheaper World Discovery tickets.
What are some of the main rules of the Global Explorer ticket?
Which airlines can I fly with?
Aer Lingus, Air Pacific, Alaska Airlines, American Airlines, British Airways, Cathay Pacific, Finnair, Gulf Air, Horizon Air, Iberia, JAL Japan Airlines, LAN, Malév Hungarian Airlines, Mexicana, Qantas, Royal Jordanian Airlines.
NOTE: When you book your flights you may fly on code-share flights.
How long can I take?
The Global Explorer ticket is valid for between 10 days and 12 months from the date of the first flight.
Maximum mileage
Air fares are based on the following mileage tiers:
Tier 1: Up to 26,000 miles
Tier 2: Up to 29,000 miles
Tier 3: Up to 34,000 miles
Tier 4: Up to 39,000 miles
You must fly around the world on the Global Explorer fare.
How many stops can I have?
Stops are dependent on how far your travel and thus which tier you fall in to.
Tier 1: Minimum of 3, maximum of 5 stops, with no more than 2 within any region.
Tier 2: Minimum of 3, maximum of 10 stops, with no more than 3 within any region.
Tier 3: Minimum of 3, maximum of 15 stops, with no more than 4 within any region
Tier 4: Minimum of 3, maximum of 15 stops, with no more than 4 within any region
Surface sectors count as one stop. So flying into Cape Town and out from Johannesburg counts as one stop. Take a look at some of the exciting tours you can include to make your Global Explorer round the world flights more adventurous.
It might be worth checking if you route fits into the cheaper World Discovery ticket.
Where can I stop?
Global Explorer RTW tickets offer good stops around the world in Europe and the Middle East, Africa, Asia (including the Indian sub-continent), Australia, New Zealand and South West Pacific, North America (including Mexico, the Caribbean, Central America and Panama) and South America (excluding the countries named above).
What are popular Global Explorer routes?
There are so many different routings to choose from, but examples of some Global Explorer flights could be: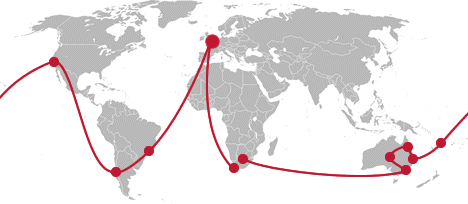 London - Rio de Janeiro - Santiago - Los Angeles - Fiji - Brisbane - Cairns - Ayers Rock - Sydney - Johannesburg surface to Cape Town to London.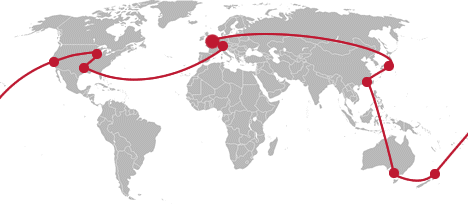 London - Paris - Dallas - Chicago - Los Angeles - Auckland - Melbourne - Hong Kong - Tokyo - London.
Always check the conditions of your flight ticket before booking to ensure you are aware of any charges or restrictions which may be applicable. More details can be found on the OneWorld website.